The Marisa Tufaro Foundation would like to extend its heartfelt gratitude to Woodbridge Township Public Schools and all those who participated in last weekend's Tecmo Bowl for the Tufaro Foundation at Woodbridge High School.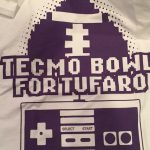 The fundraising event, for which Hailey's Harp & Pub in Metuchen donated scrumptious food and also made a generous donation to our tax-exempt nonprofit, was a tremendous success.
Richard Maddock won the championship game of the double-elimination tournament with a lopsided victory over Michael Essig, who scored the second of two touchdowns in the closing minute with no time on the clock for a thrilling 28-21 semifinal win over Glenn Lottmann to advance.
Woodbridge Township Public Schools Assistant Superintendent John Bader and Woodbridge High School teacher Brett Hoyer organized the event, which featured an all-star lineup of participants including Kevin Kane, Joe Ward, Mike Jago, Tom Leusen, Christopher Bergondo, Jason Bernstein, Christian Bader, John Dobos, Thomas Hines, Anthony Perez and others.
Ben Lepisto, a Woodbridge High School student who has fought a winning battle with brain cancer, and his younger brother, Joseph, competed in the tournament. The Tufaros have the utmost respect for Ben and his entire family and were elated to see Ben last weekend.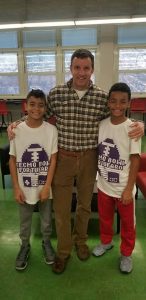 Woodbridge Township Councilman Kyle Anderson brought his twin sons to the tournament. Marisa's father, Greg, who is a sports writer for the Home News Tribune, had the privilege of covering Anderson's school-record-setting quarterback son, also named Kyle, when the signal caller starred for the Barrons from 2009-11.
Marisa was born with a complex cardiac defect that required six open-heart surgeries. Despite keeping hundreds of doctor's appointments and being hospitalized for more than two years, she lived a vibrant life that inspired.
A heart transplant, which was supposed to extend Marisa's life, tragically cut it short after a postoperative complication developed into a rare form of Stage IV cancer. After radiation and chemotherapy treatments failed to thwart the relentless onslaught of an aggressive disease that riddled her brain and body, Marisa succumbed to her illness on January 30, 2017 following a valiant battle. She was just 13 years old.
Playing video games – whether it be on her handheld Nintendo DS or Wii console – provided Marisa with a wonderful diversion through the many illnesses she battled including two life-threatening conditions that necessitated her heart transplant. Marisa would have enjoyed the old-school flavor of the Tecmo Bowl tournament.
A $25 donation per player, which was collected on the day of the event, included lunch and a complimentary T-shirt.
Since its inception less than six months ago, The Marisa Tufaro Foundation has already made a profound impact, assisting pediatric patients and children in need at Bristol-Myers Squibb Children's Hospital, Saint Peter's University Children's Hospital, Hands of Hope, Kiddie Keep Well Camp, the Lakeview School, Special Strides Therapeutic Riding Center, the Ronald McDonald House of Central Jersey, Make-A-Wish New Jersey and elsewhere. The foundation, which serves as Marisa's legacy, is scheduled to announce two new initiatives in the coming weeks.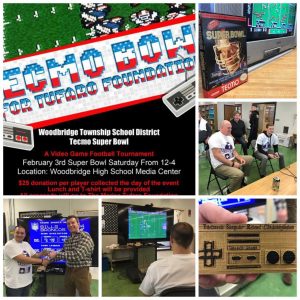 The Woodbridge Township School District Tecmo Super Bowl is not the district's first foray into assisting The Marisa Tufaro Foundation.
This year, the tax-exempt nonprofit will make available at least $5,000 in scholarships, including money from the second annual Marisa Tufaro Memorial Woodbridge High School Scholarship, which Woodbridge Public Schools, through its benevolence, fully funds in Marisa's honor and memory.
The scholarship will be awarded to two exceptional college-bound seniors from Woodbridge High School who strive for excellence academically, athletically or in the arts, who overcame adversity (not limited to medical challenges) and who epitomize the caring spirit that Marisa's family believes makes the Woodbridge school-community special.
The first annual scholarship recipients were 2017 graduates Alex LaGrippo and Jordan Vazquez.
Marisa's parents, Greg and Cyndi, a longtime Edison Township Public Schools educator, were honored to present the scholarships to LaGrippo and Vazquez during an awards ceremony at the high school last spring.
In addition to sponsoring the scholarship, Woodbridge has supported the foundation in several other ways.
The high school donated its facilities and volunteered its staff to host the 2017 Greater Middlesex Conference All-Star Basketball Doubleheader, from which all proceeds benefited the foundation.
Baseball players at the school also wore specially designed purple wristbands bearing Marisa's initials during the 2017 season.