The Marisa Tufaro foundation recently made a generous donation to the Lakeview School, a program of the New Jersey Institute for Disabilities.
The charitable gift will provide equipment and supplies for students utilizing the school's newly constructed Aquatic Center, which includes a state-of-the-art hydrotherapy pool.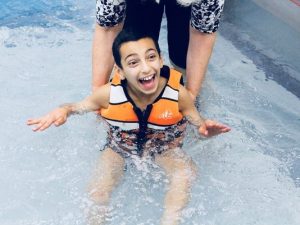 The pool provides therapy and rehabilitation to students with disabilities. No steps, ladders or lifts are necessary for access to the pool because its floor – which doubles as a variable-speed treadmill – is height-adjustable, allowing students and clinical staff to stand or sit on the floor while being lowered into the water. The hydrotherapy pool features five underwater cameras and a digital monitoring system, enhancing diagnostic capabilities for therapists and physicians. The warmth and buoyancy of the water stimulate increased mobility and range of motion, which allow therapists to help students work on their balance, coordination and strength – skills that can be transferred to the land.
The Lakeview School is one of the nation's largest day programs for children with multiple disabilities. It boasts the most extensive clinical staff of any private or public school in the state, providing consultant medical and psychological services, specialized nursing services, social services and medical screenings.
The school has more than 150 students ranging in age from 3 to 21 from a dozen counties statewide – including Middlesex County, where the school is located – who have nearly 100 different medical diagnoses.
Please watch the video below, courtesy of the New Jersey Institute for Disabilities, for an inside look at the aquatic center.