Greg and Cyndi were privileged to be a part of  Sunday's third annual Asbury Park Press All-Star Hockey Classic at Middletown Ice World.
The event, featuring 42 of the Shore Conference's best players, benefits the Brick Stars Challenger Hockey Program, which teaches the sport to local children and young adults with developmental disabilities including autism and Down syndrome.
Players wore specially designed jerseys bearing a heartfelt commemorative patch in Marisa's honor. Game director Chris Rotolo, ice hockey beat writer for the Asbury Park Press, presented Greg and Cyndi with a game jersey that every player autographed.  He also afforded Marisa's parents the privilege of thanking the players in the locker room before the game for honoring their daughter.
Chris graciously took the time to pay tribute to The Marisa Tufaro Foundation during his pregame remarks.
Thank you @rote7123 and @ShoreConfHockey for honoring Marisa at @AsburyParkPress Classic. Story here https://t.co/RJEzehtozN. Video below pic.twitter.com/lHCPw2Zmsf

— Marisa's Foundation (@FoundationMT) August 7, 2017
The thrilling contest, which saw the White team defeat the Blue team 5-4, was decided in an overtime shootout after the White knotted the game at 4-4 on a goal with 1.2 seconds remaining in regulation.
A great day for a great cause. Thanks @rote7123 and the staff at the @APPSportsDesk for putting this together! pic.twitter.com/GtDxkwUXic

— Shore Conf Hockey (@ShoreConfHockey) August 7, 2017
"I think I can speak for all the guys who are playing when I say that we're definitely going to be skating with Marisa in our hearts and in our minds on Sunday," Christian Brothers Academy team captain Corey Clifton told Rotolo before the game. "Personally, skating for Marisa will mean a lot to me, because I know what it's like to lose a family member. It's the worst feeling in the world. Anything we can do for (the Tufaro family) should be our goal for this game. It's an honor to be part of the (APP Hockey Classic) and to help this family recover."
Greg and Cyndi inserted a thank you note into the game program, which read in part:
On behalf of The Marisa Tufaro Foundation, we would like to extend our heartfelt gratitude and deep appreciation to the Shore Conference players, Avon Pond, Chris Rotolo, the Asbury Park Press, Middletown Ice World and the entire New Jersey hockey community for honoring our daughter with the commemorative patch being worn on the jerseys in today's game.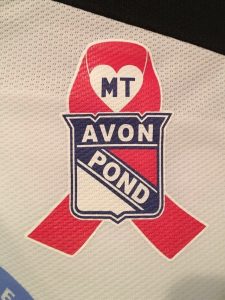 Our foundation launched on July 30, which would have been Marisa's 14th birthday. The willingness of those involved with the Asbury Park Press Hockey Classic to pay tribute to Marisa illustrates the unique spirit and camaraderie of our state's ice hockey community, which transcends geography.
"I think more than anything, it shows hockey has a heart," Avon Pond's John O'Malley eloquently articulated in Chris Rotolo's recent story promoting today's event. "Hockey is a fraternity. Hockey is a community. When we see an opportunity, or become aware of a situation where we can help give back to the community, we're more than happy to do it."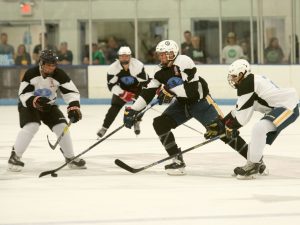 The Marisa Tufaro Foundation's heart is with all of the players – who we wish the best of luck in today's game and in their future endeavors – and with the Brick Stars Challenger Hockey Program, which teaches this great sport to local children and young adults with developmental disabilities including autism and Down syndrome.
Legendary Brick Township Coach Bob Auriemma was honored as the recipient of the Asbury Park Press All-Star Hockey Classic's inaugural "Community Commitment" Award.
New Jersey Devils legend and Stanley Cup champion Bruce Driver met fans and signed autographs at the game.
Rosters for the #APPHockeyClassic | Great #njhockey talent! @APPSportsDesk @AsburyParkPress @rote7123 @HockeyAdvantage @ShoreConfHockey pic.twitter.com/T4j2InXszR

— HockeyClan (@Hockey_Clan) August 6, 2017