A painting in acrylic nearly turned into a watercolor as freelance artist Cindy Yeung Muglia became overwhelmed with emotion while transforming a blank canvas into an homage of Marisa Tufaro's drawing.
Cindy, who expects to give birth to her second child in July (the same month Marisa was born) at Saint Peter's University Hospital (where an obstetrician made a life-saving diagnosis in utero of Marisa's complex cardiac defect) read extensively about Marisa before she began painting.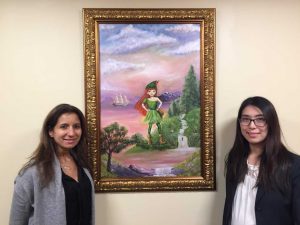 "Reading the stories (with the aforementioned connections) and to find out that we are both from Edison, you can just imagine the tears and painting at the same time," said Cindy, who graduated in 2006 from Edison High School, where Marisa, who died on January 30, 2017 following a long illness, would have been a freshman this year.
"I just felt very attached to this particular project and tied to the meaning and the emotion behind this."
Dr. Nidhi Kumar, a cardiologist and Medical Director of Women's Health at Saint Peter's University Hospital, asked Cindy if she would be willing to create a painting based upon the character Petricia Pan, which Marisa created in the spirit of author J.M. Barrie's novel, with the goal of hanging the painting in an appropriate hospital setting.
"Marisa created this very beautiful and powerful character while she was in the midst of a huge struggle in her own life," Dr. Kumar said. "I felt like the right thing to do would be to find a way to share that character, that beauty with the rest of the world, and this was the way to do it."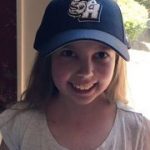 Cindy's painting fittingly depicts Petricia Pan standing majestically in Neverland, the place from Barrie's imagination that represents eternal childhood and immortality. If one looks closely through the golden flecks of pixie dust and deep into Petrica Pan's beautiful brown eyes – painted to resemble Marisa's own distinguishing characteristic – they may see the spirit of a young girl, like the namesake of Barrie's literary work, that has the ability to live forever.
"Both Cindy and I really feel like the main purpose of art is to evoke healing," Dr. Kumar said. "Most people think of art as a form of entertainment. But it's much more than that. Primitive societies were focused on survival – they needed food, shelter and protection. But they also created art. Maybe art helped them survive in some way. This project is an expression of that concept. The hope is that when people view this image, it will evoke something positive within, a little something special to help with their survival."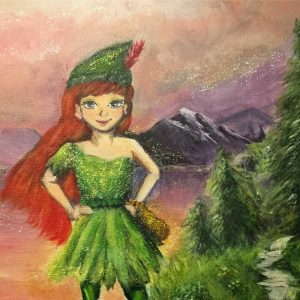 The breathtaking painting, mounted in a beautiful gold frame, fittingly hangs in the Pediatric Intensive Care Unit family lounge at Saint Peter's University Hospital. Marisa's parents, Greg and Cyndi, spent countless days inside similar family lounges.
The complex cardiac defect with which Marisa was born required six open-heart surgeries, the first of which took place within 24 hours of her birth. Marisa later developed two life-threatening conditions that necessitated a heart transplant, which was supposed to extend her life, but tragically cut it short after a postoperative complication developed into a rare form of cancer, to which she succumbed at the age of 13 following a valiant battle.
Despite being hospitalized for more than two years and maintaining hundreds of doctor's appointments, Marisa lived a vibrant life that – through her heart and courage – inspired. She never let medical conditions limit or define her. Marisa was an honor roll student, student council vice president and participated in an inordinate number of school activities. She was intelligent, charismatic, funny, creative beyond words and, most importantly, loved. Marisa took dance classes, vocal lessons and was a gifted artist. As a patient, Marisa benefited immensely from working with hospital art therapists. Her ambition was to attend an arts college.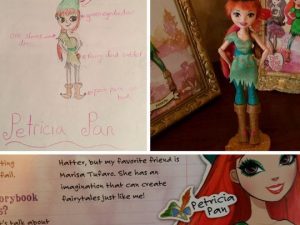 Nearly three years ago, Marisa emailed to Mattel a letter and drawing of a doll she designed, named Petricia Pan, in the spirit of the toy company's Ever After High collection. In her correspondence, Marisa wrote in part: "When I grow up I want to design doll outfits as my dream job. I truly hope you can take this doll into consideration and that you can make her a reality. It would mean the world to me to have my idols make a character for me that I created." Upon the request of Make-A-Wish, Mattel brought a prototype of the doll to life with every detail meeting Marisa's specifications. Volunteers from Make-A-Wish delivered the doll to Marisa in specially designed packaging with an accompanying letter and artist renderings.
A guidance counselor at Princeton International School of Mathematics and Science, Cindy worked on the Petricia Pan painting for nearly two weeks. The expectant mother stood for up to five hours a day, sometimes longer, in front of the easel, which she had to elevate to a higher than normal height to prevent her  two-year-old son Alex, from turning her acrylic artwork into a finger painting. Cindy also read extensively about The Marisa Tufaro Foundation, whose mission is to help children in need throughout the greater Middlesex County area.
"This is, in a way, me keeping it in the community and returning to the community," Cindy said, calling her artwork, "a painting for a fellow neighbor."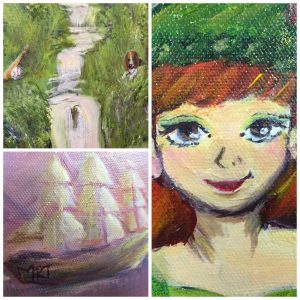 She skillfully worked Dunkin, Marisa's beagle, along with a bat and ball, reflecting Marisa's penchant for hitting plastic baseballs with her father in the field behind their house, into the painting. Every detail of Marisa's artist rendering of Petricia Pan is captured in Cindy's painting. The initials MRT, which Marisa used as the insignia for her own artwork, are inscribed on a pirate ship off in the distance.
Cindy's artwork also adorns the walls of Saint Peter's University Hospital's cardio oncology program waiting area. Art supplies for the creation of patient artwork are available in the waiting area.
According to a press release from Saint Peter's Healthcare System, "Medical professionals are beginning to recognize the role that art plays in the healing process. Art can help people process experiences that are often too difficult to put into words. Studies have found that patients can explore the meaning of their disease, gain greater insight and express their feelings in a symbolic manner through art therapy."
"Our goal was to offer our patients more just than another waiting room — as waiting rooms are often impersonal, uncomfortable and at times anxiety provoking," Dr. Kumar said. "Instead we created a space to promote healing through art. Art can be a great refuge from the emotions associated with illness."
A mural Cindy painted of Pablo Picasso's Guernica as an Edison student, under the tutelage of Sherry Yee, who now teaches across town at J.P. Stevens, beautifies the high school's art and music wing.
"Since then, I never stopped painting," Cindy said, noting she has worked in different mediums.
Petricia Pan, however, may represent the first time she nearly worked in watercolor.