The Marisa Tufaro Foundation made a generous donation to Kiddie Keep Well Camp (KKWC), which will allow the camp to replace all of its outdated wooden bunk beds with brand new ones made of metal.
Located in Edison's scenic Roosevelt Park, KKWC has provided residential camping experiences for underserved children of Middlesex County for nearly a century. With room to accommodate 150 campers at a time, KKWC features nine cabins, two swimming pools, a learning center and other amenities.
KKWC annually accepts more than 600 campers, age 7 through 13, to attend one of its four 11-day sessions at no cost. KKWC provides comprehensive educational and recreational programming and is an ideal place to connect with nature, build community, learn, grow and have fun.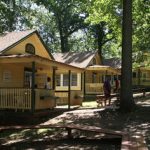 The new metal bunk beds will provide safe and secure sleeping quarters for the children. The outdated wooden bunk beds are difficult to repair, maintain and clean. KKWC staffers will use the wood from the old bunk beds to create other pieces, such as garden boxes, with the children, an activity that will teach the campers about recycling.
KKWC receives referrals from school nurses, guidance counselors, principals and the New Jersey Department of Youth and Family Services to identify children who would not otherwise be able to attend a summer camp.
Activities for campers include swimming, arts & crafts, storytelling, nature activities, dance and drama, sports, games, music and special events including olympics and holiday celebrations. KKWC also holds fire-safety lessons.
A social worker under KKWC's employ conducts sessions on anger management, self-esteem and other character-building skills.
KKWC is accredited by the American Camp Association and licensed by the State Department of Health.