The Marisa Tufaro Foundation invites students who are Middlesex County residents between the ages of 7 and 14 to apply for the 2018 Marisa Tufaro Memorial Arts Scholarship.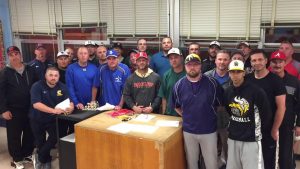 The second annual scholarship has been made possible through a donation to The Marisa Tufaro Foundation on behalf of a member of the Greater Middlesex Conference Baseball Coaches Association, who wishes to remain anonymous and who requested that the funds be used exclusively for an arts scholarship.
The anonymous donor, who attended Marisa's wake, "Was really moved by what he saw (there) with the amount of art projects that Marisa had accomplished and created," GMCBCA President Vinnie Abene said.
"That truly inspired him to have a unique idea. He called me the same night as the wake and told me what his idea was, and he certainly made it a point that he wanted to keep it anonymous because it wasn't about him. He just wanted to make sure that some worthy students would use the money toward an art scholarship."
The scholarship recipients can elect to attend either a full-day session or a half-day session. The museum's summer arts camp, which began 15 years ago, traditionally adds new classes annually. The schedule of classes from which scholarship recipients can choose will likely be available in February 2018.
Scholarship applicants must share Marisa's passion and talent for art. Only an art teacher from a student's school can nominate scholarship candidates. Nominations must be submitted no later than January 1, 2018 in the form of an art teacher's letter of recommendation on behalf of the candidate via email to cgtufaro2@gmail.com. Again, only students who are Middlesex County residents between the ages of 7 and 14 are eligible.
Parents and/or legal guardians of scholarship recipients are responsible for providing transportation to and from the Zimmerli Art Museum, located at 71 Hamilton Street in New Brunswick.
The Zimmerli Art Museum's Summer Art Camp allows artists of various ability levels to interact and study with some of New Jersey's best teaching artists.
Wes Sherman, who holds a Masters of Fine Arts degree from Rutgers University's Mason Gross School of the Arts and is a highly successful independent artist, heads the Summer Art Camp faculty.
According to Rutgers University's website: "During the hot days of summer, the Zimmerli is the place to be for budding young artists. Each year, new classes are added to stimulate, challenge and delight both veteran and newcomers who participate in the program. The Zimmerli continues to offer its popular classes in painting, drawing, pastels, watercolors, sculpture and an art 'sampler' class. Children also find inspiration in the museum's collections as they explore the galleries."